Yoga Retreats on the Banks of Holy River Ganga in Rishikesh, India
Yoga Retreats on the Banks of Holy River Ganga in Rishikesh, India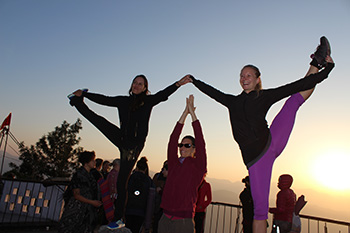 Yoga Retreats in Rishikesh, India at Avatar Yoga School for tenderfoots and specialists. One and two-week short Yoga courses to revive the body, psyche and soul. The symbol yoga school offers one week and 15 days Yoga Retreats every month. Yoga Retreats are a repaid variant of Yoga Teacher Training underlining on the reasonable part of Yoga with light on the philosophical viewpoint. You will be rehearsing diverse asanas (yoga stances), Pranayama (control of breath), Dhyana (contemplation), alongside learning nutritive and preventive medicinal services instrument. According to your necessity and adaptability, the class may incorporate naturopathy and detoxification.
Avatar Yoga School offers affordable yoga retreats in India. Change your internal identity through the stunning yoga withdraws in the motivating areas of the Himalayas in Rishikesh where the serenades of holy people and yogis reverberating through the valleys and reaches restore your spirit. Since ages, these astounding areas of the Himalayas have been a motivation for Yogis and now additionally these extremely extend summons the excited yoga mates to feel and have the profound presence of the self. These are the spots where the morning sun beams peep through the snow crested mountains and where each bloom bud swing to inebriate you for genuine presence. You are certain to stand tall persevering through every one of the resistances and hindrances for achieving quality, adjust in life, discretion, serenity and peace to your body, psyche and soul.
Rishikesh not just has a portion of the best yoga schools in India yet it likewise gives an ideal occasion goal where peace and otherworldly existence rule. Book your Rishikesh yoga withdraw remain well ahead of time for the spaces top off quick since they are exceptionally reasonable at the just US $350 for a week or $700 for two weeks remain comprehensive of yoga learning, settlement, and sustenance. This occasion cum yoga rehearse is certain to open up new skylines for you and you may find that you might want to make yoga instructing your work seeing as how this withdraw profited you.
The retreats increment the immaculateness of your brain and soul helping you increase profound comprehension and learning of an existence of a yogi. The morning retreat sessions started with Hatha Yoga and begin at night with Ashtanga Yoga. Hatha Yoga is the quickly paced asanas that expansion adaptability resuscitates the quality of your body and builds the portability of the muscle joints. While Ashtanga Yoga increment wellness level gives mental quality, mitigates you from stress and increment the level of focus.
Offering by Avatar Yoga School at One & Two Week Yoga Retreat - 2018
Resuscitate your spirit and learn new ideas of remaining solid and fit through yoga.
A total bundle that will revive you altogether.
Blend and associate with various individuals.
A merger of different types of Yoga, for example, Ashtanga yoga, Hatha Yoga and Laughter Yoga.
Discover profound unwinding and associate with your internal being.
Two ayurvedic rub.
Yoga reasoning lessons.
Yoga purging.
Three nutritious yogic suppers.
Day by day sorted out treks to nearby locales of intrigue.
En-suite convenience.
Have Some Good Times and Make the Retreats Memorable with Adventurous Trips.
We would give our understudies an extraordinary ordeal of life through trips in the crosses of Himalayan reaches. A personal and tranquil convenience with site seeing would beyond any doubt to make their retreats noteworthy and energizing.
Trekking and lovely site seeing of Himalayas.
White water stream boating (Water Rafting in Rishikesh).
Trek to waterfall.
Ganga Arti (Evening Ceremony).
Mountain Biking.
7 Days Yoga and Meditation Retreat in Rishikesh - Start Every Monday - Fees $250 [Apply for Yoga Retreats]
14 Days Yoga and Meditation Retreat in Rishikesh - Start Every Monday - Fees $500 [Apply for Yoga Retreats]
Weekly Schedule of Yoga Retreat at Avatar Yoga School - 2018
DAY 1:
Morning Yoga
Pranayama
Meditation/Relaxation
Ganga Arti (World famous prayer to the Ganges)
DAY 2:
Morning Yoga Pranayama
Diaphragmatic/Yogic Breathing practice
Relaxation
Evening Asana Practice (Optional)
DAY 3:
Himalayan Sunrise tour and Sun Salutation Practice
Ayurvedic Massage
Evening Asana Practice
DAY 4:
Morning Asana Practice
Yogic Detoxification (Neti)
Yoga for daily life
Visit Ashram or Temple or Cave
DAY 5:
Morning Asana Practice
Pranayama
Introduction to Ayurveda and know personal body constitution
Meditation/Relaxation
Evening Asana (optional)
DAY 6:
Morning Asana Practice
Pranayama
Rafting or Massage
Yogic management of Stress
Silent Meditation at Ganga Beach
DAY 7:
Morning Asana Practice
Pranayama
Bon Voyage!